Co-Curricular Activities
---
League Athletics Program (Grades 5-8)
The athletics program is available for 5th-8th grade boys and girls. The following sports are offered during the school year: Boys Volleyball, Girls Volleyball, Boys Basketball, Girls Basketball, and Co-Ed Track and Field.
Practices and games will be announced by the athletic director and/or coaches as each season begins. The St. John Knights are in the Diocese of San Jose Catholic Athletic League Central Division and all athletes are expected to demonstrate good sportsmanship and act in ways that are consistent with the mission and philosophy of the school. This program is dependent upon parent volunteer coaches. Parents interested in coaching, or assisting, please contact the Athletic Director via the school office.
---
Junior Knights Program (Grades 1-4)
Team athletics is important to the character development of your child. We introduced the popular Junior Knights program in 2013 to 3th and 4th graders to not only foster health and fitness at an earlier age, but to also develop leadership skills. The main focus of Junior Knights is basketball and through this team sport our children can learn to develop certain characteristics that they can carry through their lives at home, school, and eventually in the workplace. Team athletics teaches teamwork, dedication, focus, work ethic, commitment, sportsmanship, loyalty, and so on. In general we hope to promote a more wholesome and confident child. Additionally, Junior Knights also encourages 8th graders and alumni to participate as assistant coaches to further develop their leadership and mentoring skills.
The program focuses on the 5 basic skills of basketball (dribbling, shooting, passing, jumping, and running). This is not a competitive program but a recreational program where students and their friends can play together as a team and have fun while learning the skills necessary to play basketball.
---
STEM Lab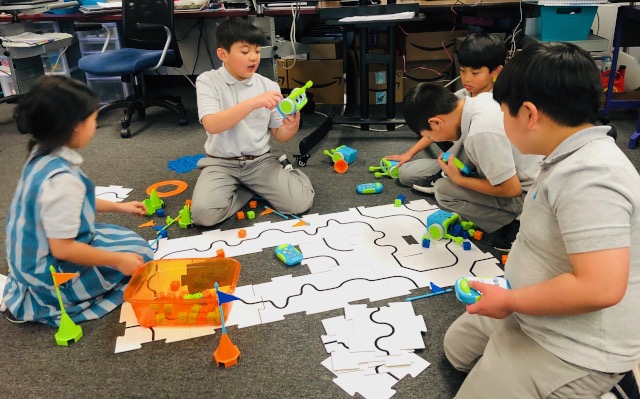 Students in grades TK to 5 spend at least 30 minutes a week in coding. St. John School uses the app Kodable which begins with lessons on sequence, conditions, loops, and functions. The students use additional apps to enhance their coding lessons. Middle School students further their coding experience through other apps. The students get to apply this knowledge in programming in our Robotics Program. Currently there are 10 different robots for different skill levels. Grade 5 experience building a robot and programming using an Arduino board. Our Jr. Robotics is for K-5 students, Robotics is open to grades 6-8. The clubs meet once a week to build, program, and complete challenges with the robots.
Digital design is introduced in 4th grade, from California Missions to Life Science Body Systems. These designs can be printed on the 3-D printers available in the STEM Lab.
Click here to view more information about Robotics!
---
Extended Care Program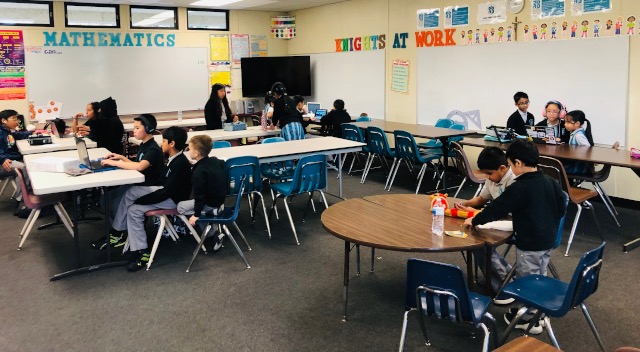 Our Extended Care Program has been designed to provide a service for TK-8th grade parents whose children need supervision before or after school. The primary objective of this program is to provide a safe and wholesome environment for children. The Program features:
A safe, supervised, and organized environment for after school care
Homework time with some assistance
Seasonal Activities
Indoor games - puzzles, memory games, chess, block constructions, play kitchen sets
Outdoor games - ball games, hula hoops, and jump ropes, as well as other sports activities as supervised by the staff.
Extended Care Hours
6:30 am - 8:00 am Monday - Friday;
3:05 pm - 6:00 pm Monday, Tuesday, Thursday, Friday
12:30 pm - 6:00 pm Wednesday
Monthly rates per child:
PM Plans
Pick Up by 4:00 pm: $300

Pick Up by 5:00 pm: $400

Pick Up by 6:00 pm: $500
AM Plan
Separately or as add-on to PM plan: $165

Wednesdays until 3:00 pm only: $90
Drop-in rates are: $25 if pick up before 4:00 pm; $40 if pick up after 4:00 pm
An extended care month runs approximately from the 16th of one month to the 15th of the next month. This is designed to align more closely with the first and last days of school.
Families who wish to change plans must do so by the 10th of the month, allowing the school enough time to make changes in TADS.
All fees will be applied to TADS accounts by the 20th of each month.
---
Lunch Program
At St. John the Baptist School, we believe a student should be a physically well-balanced individual who recognizes the importance of nutritious food. We wanted a food service vendor with similar values and chose ChoiceLunch. ChoiceLunch provides "a simple online ordering system and mobile app designed for schools and parents who care deeply about food and nutrition, but don't have a lot of time to spend figuring out how to order lunch. Browse from the selection of 20 daily delicious entree options and plan lunches days or weeks in advance, tailored to your child's tastes and nutritional needs."
---
Choir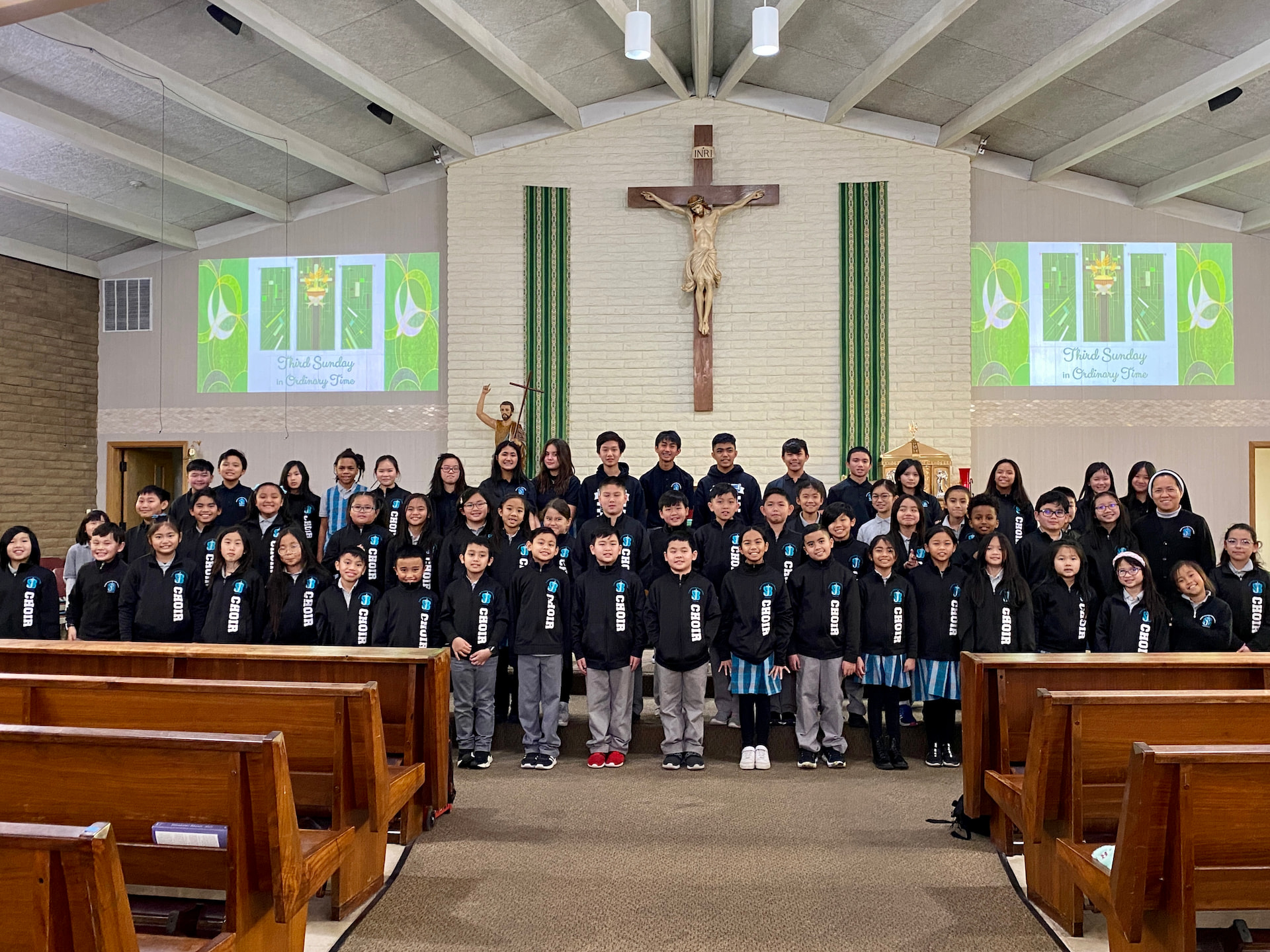 St. Augustine says, "He who sings, prays twice." Directed by Sr. Norie Noman, A.R., the choir consists of more than 70 students from 2nd to 8th grade. The group practices once a week on Thursdays from 1:15 pm - 2:15 pm. The school choir participates in different civic, school, church events throughout the year and enjoys participating in Christmas caroling and other local community events in December. The school choir is committed to serving St. John the Baptist Church parish community two Sundays a month during 10:00 am Mass.
---
Summer School Enrichment Program
Click here to view more information about Summer School Enrichment Program!